As part of the TOS Homeschool Crew, we were given the opportunity to review
Educating the WholeHearted Child
written by Clay and Sally Clarkson and published by
Apologia Education Ministries
. I must tell you, that this is a whopper of a book (376 pages), and  I have only begun to scratch the surface of all that this book has to offer. In this review, I will do my best to convey all that the amazing book has to offer.
This book can easily be called the
How to
Homeschool Manual.  I have found many of the thoughts that  I have had about homeschooling over the years have been contained in this wonderful book. The interesting thing is that I had never heard of this book, and I discovered that this book has actually been around since 1994, and recently has been completely updated! I wish that I had known about this book, back when I first started homeschooling my children 12 years ago.
Clay and Sally Clarkson share with you, how their family integrated "Real Books and Real Life" into their homeschool and their family, creating a "Vibrant Center of Living and Learning". One thing that is stressed throughout the book, is that their intent is not that you follow their model exactly. They want you to allow God to be the center of your home, and to lead your homeschool. The information shared between the covers of this book, should serve as tools for you to use.  I love this! Often times as homeschoolers, we get so caught up in how others do things, and trying to recreate their homeschool, that we neglect to lean on God and allow Him to design our homeschool.
Here are just a few of the topics covered in Educating the Whole Hearted Child: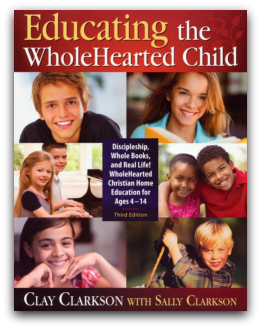 ~ Learning at to Home with Christ
~ Shepherding Your Child's Spirit to Long for God
~Living and Learning Together at Home
~ Creating a home You Can Learn Within
~ Understanding Your Child
~ The Study of the Bible
~The Study of Living
~Keeping the Vision Alive
And much more!!!
Her you can see
chapter one
and the complete 
table of contents
to get a taste of all that this books has to offer.
In addition to these, you will also find a section in the back with some very useful forms!  While there are some of the forms that you would expect in a homeschool book, the forms that most impress me ( which are most of them) are the ones that not only on focus on say a chore that needs to be done. But it also reminds the child (and us) of why they are doing those chores. The
Check Me Out Dependable List
is designed to train and reinforce good habits in your children, rather than discipline them.  Next to the list of morning chores it says "
Sow your seed in the morning
"...  Evening it says, "
And at evening let your hands not be idle
"... and  All Day says, "
Whatever you do, do it all for the glory of God"
.  I like that A LOT!!  It is a reminder to us, as parents that we are to be focused on the heart of the child, not simply the behavior.  What a wonderful tool!
As you work through this book, you will find that any question that you have had, has been addressed. From homeschooling methods, to how to pick out a curriculum, to learning styles, to planning, to individual subjects and so much more!
Please take a moment to visit Apologia and take a look at this must have for every homeschool! You can purchase your very own copy of Educating the Whole Hearted Child for $22 on the
Apologia Website
.  Apologia, also offers a fill line of
Science Curriculum
,
Apologetics and Geography Resources
and much more!
Take a moment to visit the
crew blog
to see what my crew mates have to say about Educating the WholeHearted Child.
**note: I was provided with a complementary copy of Educating the Whole Hearted Child in exchange for my honest opinion. All opinions shared in the review are my own, and do not constitute and guarantees or promises. No other compensations has been offered or accepted.