Things are getting exciting around here! I mean it's like a circus! A Flea Circus! It is amazing where our Crew Voyage has taken us!
So what is all the ruckus about?
Let me tell you about Flea Circus!  It is an exciting board game that is truly fun for the entire family!
Readers, non-readers, adults and children alike!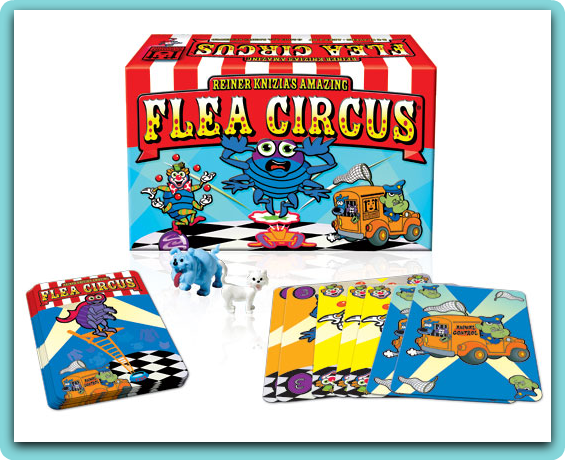 We were sent Flea Circus to try out, and it couldn't have come at a more perfect time. We had so much going on, it arrived on the first day of our VBS. And we had lots of back and forth drop off/pick up happening. We dropped off half the kids at the church, and then had a few hours to kill, before we had to return to the church ourselves. So what did we do? We went to a local restaurant, ordered some ice cold drinks... ( it was the middle of a hot, hot week) and we played this new game..... I played with my 19 year old with special needs, and with my 12 year old daughter. And we really enjoyed it!  The instructions were easy to understand, and the game play was fun, and fast paced!
The goal... the player with the most spectators at their circus WINS!  This game is great for helping with math skills! We worked on our addition and our multiplication facts.  Another bonus, is that the box is small enough to travel! We have taken it with us a number of times, when we needed something to do while out of the house!
Flea Circus is available for $15.95.  R & R games also has a whole line of family games to choose from, check out their website today.. and just because you read my review.. you get a gift! How about 20% off any purchase?  Simply type in  CREW20 to get 20% of any of their products. This coupon code is good through the end of the year.
And don't forget to check out the Homeschool Crew Blog to see what my crewmates have to say about not only Flea Circus, but also Pig Pile!
Disclosure: R & R games provided me with a free copy of Flea Circus in exchange for my honest review. No other compensation was offered or received. This review is written in my own words, and makes no guarantees or promises, it simply illustrates this products use in our home.